The Microsoft Pix app has been updated to include more automatic ways to fix photos. Photos of documents magically look like they were scanned in.
It's a 'Garage' project, supposedly for trial software and technologies. These days 'Garage' projects are presented in a more professional manner and promoted a lot more, blurring the line between 'Garage' and full public releases.
Microsoft Pix is an iOS only camera app that supposed to be testing various cloud systems for enhancing photos. All courtesy of Microsoft's Computational Photography Group.
The September 2017 update to Pix:
"detects whiteboards, documents and business cards in real time and intelligently adjusts camera settings for these types of photos.
Once the shutter clicks, the app uses AI to improve the image, such as cropping edges, boosting color and tone, sharpening focus and tweaking the angle to render the image in a straight-on perspective."
Here's Microsoft's example: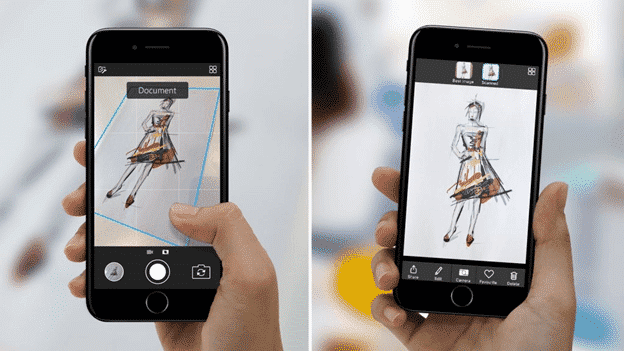 Source: Microsoft
If that sounds familiar, it's because similar features have been in the Office Lens app (iOS and Android) for some time.
The difference to Lens is that Pix makes the changes automatically.
We tried it ourselves and it's impressive. We took a deliberately skewed angle of a document:
Pix suggests part of the document you might be interested in, with a blue outline. Once you have the selection you want, click the shutter button. Pix takes the photo and makes the adjustments automatically to give you something that looks like it was scanned.
The new Pix also has "includes a set of effects that can be applied to the images of whiteboards and documents, such as adding lines to a whiteboard image so that it looks like a sheet of notebook paper."
Microsoft can add these tricks into Office Lens and Android as soon as they like.
If you have an Android device or don't want to be a Microsoft guinea pig, install Office Lens on your device. Among other tricks, it's great at turning photos of pages into something that looks like it was scanned.