Here's how to install Outlook as a standalone web app or PWA.
This looks like Outlook in a browser but it's not, it's Outlook as a standalone Progressive Web App (PWA). It's available now in Windows 10.
It's not the upcoming Project Monarch but a part-way step in that direction. 
See Make Microsoft Office a Progressive Web App or PWA and Project Monarch or One Outlook to rule them all
What is Outlook web app?
We've all used webmail, email managed in a web browser window. Almost any mailbox can be accessed via a web page.
That's more than a single web page, it's a program running in the browser. A complex set of Javascript and other web code.
Microsoft is one of many companies taking that a step further with Progressive Web Apps. These look and act like stand alone programs but are really web apps.
These PWA's can, in theory, run on any platform (Windows, Mac or Linux) as long as a supported browser is installed. For Microsoft that means their Edge browser.
PWA's are a 'work in progress' both with the core technologies and deploying them to the public. Microsoft Office is big on PWA's because they would drastically reduce development costs while expanding coverage across many platforms.
What's the big deal?
At present, not a lot. Outlook as an app doesn't do anything that Outlook in a web browser can't. It's a stepping-stone to much bigger things for Microsoft.
The only obvious benefit, for the moment, is that the app appears in the taskbar as a separate program, rather than buried among browser tabs.
What's the catch?
The current Outlook web app isn't much. There are many things that it can't do which Outlook for Windows or Mac can.
NO offline support. The Outlook web app may show a few recently viewed items but there's no proper caching of data for offline use.
No Mac support. That should change once the Edge browser is properly available on the Mac.
Doesn't support all mail accounts. Just Microsoft hosted mailboxes (Microsoft 365 hosted, Outlook.com )
Edge browser required. The 'new' Edge browser (Chromium based) is usually required.
Install Outlook as a web app
Login to a Microsoft 365 hosted mailbox or Outlook.com using the Microsoft Edge (Chromium) browser. Google Chrome will work for Microsoft 365 hosted mailboxes. Edge is needed for Outlook.com.
Then go to the Edge Apps menu and look for Install this site as an app ….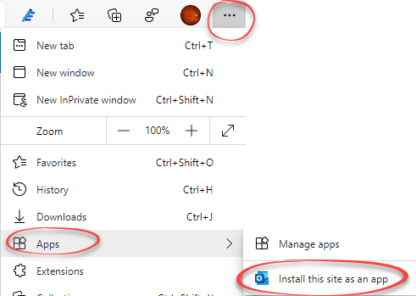 In Google Chrome it's a little more obvious, right on the browser menu as Install Outlook …
The web app will now appear on the screen, looking like a stand-alone program. Including its own icon on the taskbar.
Just like any other taskbar icon, right-click to Unpin or Close Window.
Make Microsoft Office a Progressive Web App or PWA
Project Monarch or One Outlook to rule them all