Microsoft is expanding their Phone Link feature in Windows 11 to include Apple iPhones. That means call and SMS text messaging from an iPhone can appear on a Windows screen.
Phone Link is already available for Android phones. With a connected smartphone
Voice calls can be made or accepted from Windows.
SMS text messages appear and can be typed from Windows 11
iMessage text messages, but not media.
Notifications from the phone appear on the Win11 desktop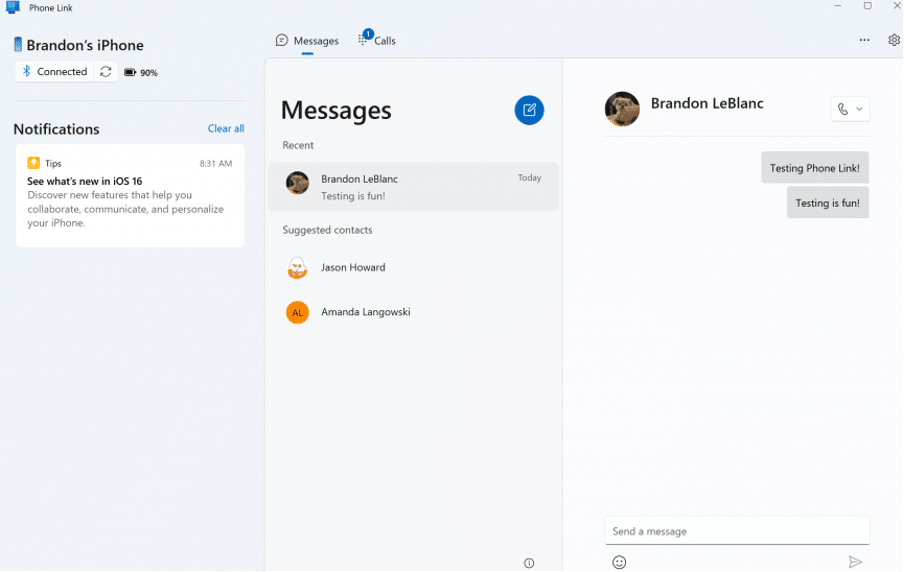 Microsoft likes to talk broadly about 'messages' and 'conversations', keep in mind this is limited to SMS text messaging via the mobile phone network and Apple's own iMessage (text only).
It's NOT modern messaging apps like WhatsApp or Signal. It's already possible to link WhatsApp or Signal to your Windows or Mac desktop.
Office Watch for Apple
Keep up with the latest Microsoft Office news and tips specifically for Mac computers (M1 and Intel) iPad and iPhone. The same independent help, tips and money saving advice we've given in Office Watch for over two decades.
Click here to get the next, free, issue
Getting iPhone link to Windows 11
Search for 'Phone Link' on a fully updated Windows 11, look for the 'iPhone' button.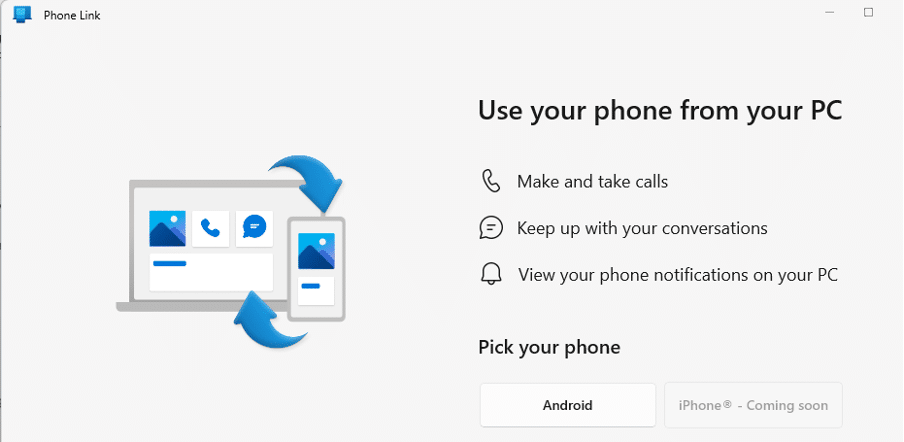 For the moment, it'll be greyed out for most people while Microsoft rolls out this feature, first to Windows Insiders and later more generally.
The PC-iPhone connection is done with Bluetooth and the Phone Link app (v 1.23012.169.0 or later) on the iPhone.
There's a confirmation process via a QR Code to setup the pairing with a specific device and allow access on the iPhone. If it's like the Android link, the steps are clearly explained and easy to follow.
There are few things not yet explained.
Which iPhones will be supported? Likely it'll be limited to recent iOS operating system releases, not specific iPhone models.
Will the setup and connection be reliable? Windows Phone Link to Android phones has been 'flakey' to put it politely. Hopefully links to the more closed-off iPhone system will be more dependable.
Can't beat em … Microsoft joins them
It's an interesting though predictable move. Microsoft has spectacularly failed, several times, to sell their own Windows phone. Now they are trying to take over other smartphones with apps like Launcher for Android and as many links to iOS devices as Apple will allow!
Windows 11 for Microsoft Office users
Get your focused and practical guide to Windows 11, (including 2023 updates) . Over 1,000 pages, full color and available today.
Available today to help you – click here