The famous Art Deco font used in US National Park posters is available free for Word, Excel or PowerPoint.
National Parks Traveller has an interesting article on the history of US National Parks posters. Original posters now sell for four figure prices, not bad for things that were once thrown out as useless pieces of paper.
There's also an effort to recreate the posters. What caught our eye was this comment about the Art Deco style typeface used in the poster:
" Today, this font, you can go to Microsoft Office and look in Microsoft Word, and there's one called 'NPS 1935'. "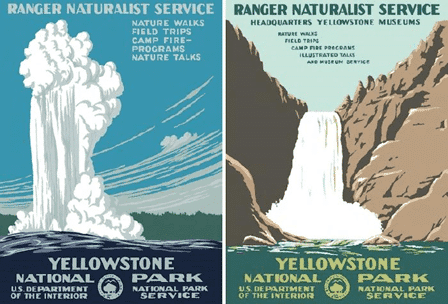 Any regular Word user will know there's no font of that name installed with Windows, Mac or Office.
Get the National Park font
The sans-serif font is available on the web from sites like DaFont. NPS 1935 was created in 2008 by E. V. Norat II. It's described as "similar, but not exact, to an art deco type of text that was used on numerous posters/prints made for the National Park Service (NPS) and the Works Progress Administration (WPA) during the years of Depression era."
It's a TrueType font that you can install in Windows and it'll appear in Word and other programs.
The real National Park font is now available for Office
How to avoid the Gill Sans font controversy in Windows and Office
Goldman Sachs font for a new look in Excel, Word and Office
Use Google Fonts for free in Microsoft Office
Add a special font for dyslexics to Word and Office
Why and how Windows substitutes Arial font for Helvetica