Making a 'simple' striped border for warning or emergency signs in Microsoft Word is possible but more complicated than you might expect.
Here's some examples of what's possible for either a diagonal striped page border or striping at top and bottom of the page only.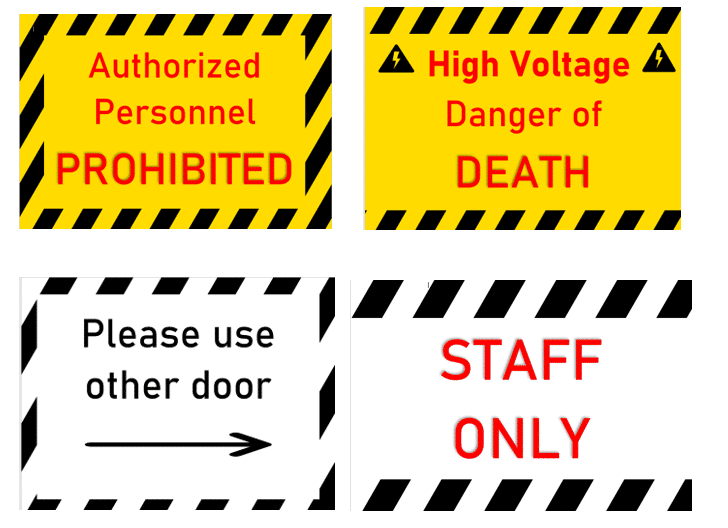 With all the page and table border options available, surely one of them covers this common need?  But no, we'll go through some of the (failed) options below.
How to make a diagonal striped page border
Forget all the usual Word options for page or table borders, they won't help you.
Instead turn to the lesser known Page background option, Picture.  Get an image which has a striped pattern across the entire picture.  Check the internet for images or make you own.   Then add a text box over the page background, put into the box any text or graphics you want.
This technique is simple and ensures that the stripes align properly across the whole page.
First – find the striped image you want. There are many options for color and thickness of the stripes. This might seem like a good job for SVG graphics and it would be except Word does NOT support SVG format for page backgrounds.
In Word, go to Design | Page Color | Fill Effects | Picture | Select Picture.
Choose your picture which has stripes all across the image.
Insert a text box to go over the page background.
Resize the box to show as much or little of the border stripes as you like.

The faint green guidelines will help center the box on the page both vertically and horizontally.

Change the text box fill color to match the lighter background color at Shape Format | Shape Fill. Knowing the exact color code (Hex or RGB) of the background helps make an exact match.
Change the Shape Format | Text | Align Text to Middle.
Add whatever text, graphics or image you like to the text box.
Get diagonal stripes at top and bottom of a page
It's almost exactly the same technique except that the text box stretches across the entire page, leaving only the stripes visible at top and bottom.
Don't like the limitations of using a page background? Try The better way to make a Word striped border page or sign
What doesn't work
There are many, many page border options but few simple and practical ones. Many fancy images, art deco motifs etc. Check out Design | Page Background | Page Borders | Page Border | Art
Tables and Text Boxes have border options but nothing like thick diagonal stripes.
Table cells do have pattern options for shading, but the design has very fine lines. Not really what we're after.
With some merged cells around the edges of a table, it's possible to make a thick border made from cell shading.
The better way to make a Word striped border page or sign

London Street Signs, make your own in Word and PowerPoint
Blood Type and Star Signs now in Outlook for Mac
Social Distancing signs in Microsoft Word
More ideas for social distancing signs
Great OPEN signs in Word for any business