Excel for Android has a new trick, converting photos of tables or other documents into worksheets. As usual, some conditions and limitations apply to Insert Data from Picture that are overlooked in the usual hype.
The idea is simple, take a photo of a table or grid in a document then Excel will convert it into a worksheet you can use.
According to Microsoft, a photo like this
Source: Microsoft
Becomes an Excel worksheet like this: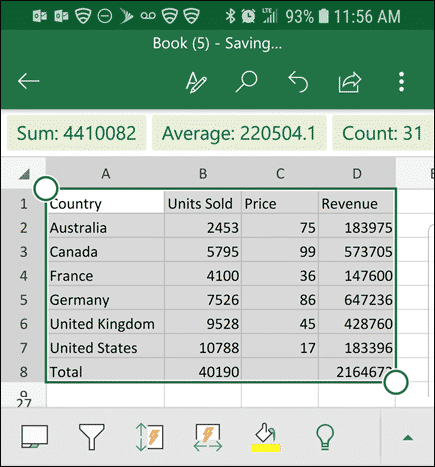 Source: Microsoft
Gotchas
Before we show how it's (supposed) to work, a few notes to keep in mind.
We could not get 'Data from Picture' to work reliably.
Even a simple Excel worksheet printed out with default settings could not be properly converted back into Excel.  The worksheet formatting and optical character recognition was so awful that manually typing is probably faster.  Even for a preview feature 'Insert Data from Picture' is a mess.
Because of those troubles, we're using the Microsoft supplied example photos in this article.  Below is a comparison of how Microsoft demos 'Insert Data from Picture' and the best we could get from it.
At present, 'Insert Data from Picture' is only available to some beta testers of the Excel app for Android. To see if it's available for you, look for the 'Insert Data from Picture' icon on the bottom toolbar.
It will be extended to all Excel Android users and Excel for iPhone in coming months.
No word on availability in Excel for Windows or Mac, despite it being more useful and easier to manage on a desktop than on smaller devices.
It's not possible to select an existing image for conversion. The photo  must be taken directly from the Excel app, though it's not clear why that's necessary.
Insert Data from Picture is a cloud service. Images taken and data collected can be saved and shared by Microsoft.
How to use Insert Data from Picture
Get your document ready, preferably very flat with good, even lighting.
In Excel click on 'Insert Data from Picture.
Source: Office-Watch.com
That will start the devices camera to take a photo.  Excel will detect the table and mark it with a red square, see above.
After taking the photo, wait while the image goes to Microsoft's servers for conversion and return to Excel.
The table initially appears in a preview form for tweaking.  If you're lucky, the results will look nice with little need for changes like this example from Microsoft (left).  The highlighted items need reviewing. Other mistakes are not highlighted ("Fra n ce") so check all the cells, especially the numbers.
For comparison, on the right is the best preview result we could get from the preview Excel app.  Microsoft counts 56 review items but there are more, not a single row or column was converted correctly.
Two 'Data to Picture' conversions – Microsoft's example on left, our 'best case' example at right.
Reviewing items in a tiny smartphone Preview pane is truly fiddly and annoying.  It's more easily done with a keyboard and mouse.
If you can manage the preview/review pane, click Edit to insert the grid into an Excel worksheet.
Source: Microsoft