Hex color codes in Office 365 for Windows and Office for Mac aren't just good for HTML coders, it's a fantastic shortcut for anyone managing colors in Word, PowerPoint or other Office documents.
Hex color codes are now an option in Office 365 for Windows, public releases. It seems like a simple change in the Custom Color dialog but Hex Code opens up some useful options.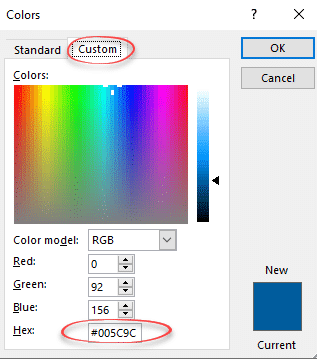 'Hex' are six character color codes using 0 – 9 plus A-F. Green is #008000  Blue #0000ff  Silver #c0c0c0 . They are usually prefixed with a # to distinguish them from other color codings.
In Office you can type or paste the code, with or without the # prefix. Office will add the hash # if it's missing.
Mac users have Hex color options in the much more powerful MacOS color options under Color Sliders.
Copy and Paste colors
Color matching has been a right pain in Office until now.  To ensure that doc or slide elements match meant remembering the RGB or HSL color code, writing it on a note, back your hand, whatever.  Then switch to the other element (text, shape, image etc) and type in the digits.
(Format Painter doesn't work with all document parts and will copy all the formatting, not just the color).
No need with Hex Codes … select the Hex code and copy to the clipboard (Ctrl + C).  Switch to the color selector for another Office part and paste the Hex color code into the Custom Color dialog (in the same document, another doc or even another Office program).
Easy and no need to mumble a trio of numbers under your breath while switching!
Quick Color Conversion Hex to RGB or HSL
If you really need an RGB or HSL color setting, type in the Hex code and Office will show it in the other two forms.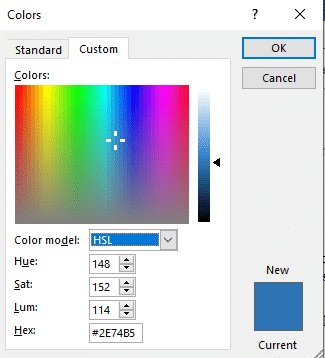 Sure, there are plenty of color code conversion sites on the web but Colors | Custom is already there for you and works offline too!
Make coloring in pictures using Office to make an outline
Transparency Color problem and fix for Microsoft Office
Pantone 2020 color of the year in Word, Excel and PowerPoint
Office for Mac color selection complete