There's a really simple way to look better and more professional in a video call. No apps or extras to buy .. it's easy and incredibly low-tech.
Compare how professionals appear in a video call
With how too many people really appear in calls.
That 'looking up a nose' view isn't polite and hardly makes you look good.
Yet so many people do it.  They sit their tablet, phone or laptop on table with the camera looking up at their face. Much better to place the camera at or just above eye-level.
Raise the camera
The fix is simple – raise the camera so it's just above the level of your eyes.
No need for fancy brackets or special stands.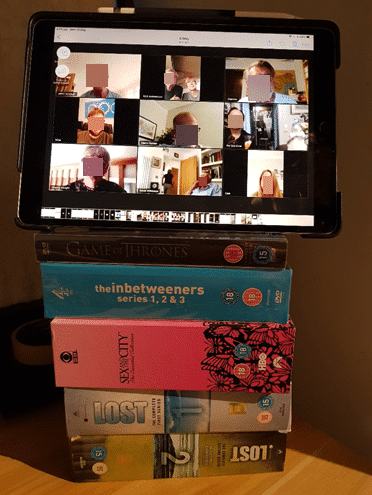 All you'll need is a box or some books or even some DVD box sets. Anything to raise the device or laptop to eye-level.
Raise to eye-level
We borrowed DVD box sets from a flatmate to make this simple stand. DVD boxes are great because there's a variety of heights to choose from big (good use for the complete Sex and the City) to smaller for fine adjustments (single DVD or season box). Use a selection to get the right level for you.
It's not pretty, but who cares? The other people on a video call can't see it. If you like, throw some material (pillowcase?) over the pile to hide the DVD/Books from your view.
If your phone or tablet doesn't have a stand – put some solid objects on top of your pile/stand and lean the device up against it. That's what the staff of Prince Charles does, though far more elegantly as befits His Royal Highness.
As you can see, all his relatives take the same advice. No looking up royal nostrils!
Lighting, positioning and other tips for your online calls
You don't need a tripod or camera stand – ask Prince Charles
Wide angle lenses easily added for online meetings
Turn your smartphone into a webcam – iPhone, iPad or Android
Beating Bots, Spies – Cock-ups – Safely & securely send files and documents
Prepare your computer for isolation or quarantine
How to play any video, audio or music file