People working on a shared Word document can now assign tasks 'To Do' within the document, then mark a task as resolved or even reassign it.  Here's how Assign Tasks works and who gets it.
Assigning Tasks is an extension of the existing Comments feature for shared documents. When you use an @mention for someone else in your team or group, a new 'Assign to:' option appears like this.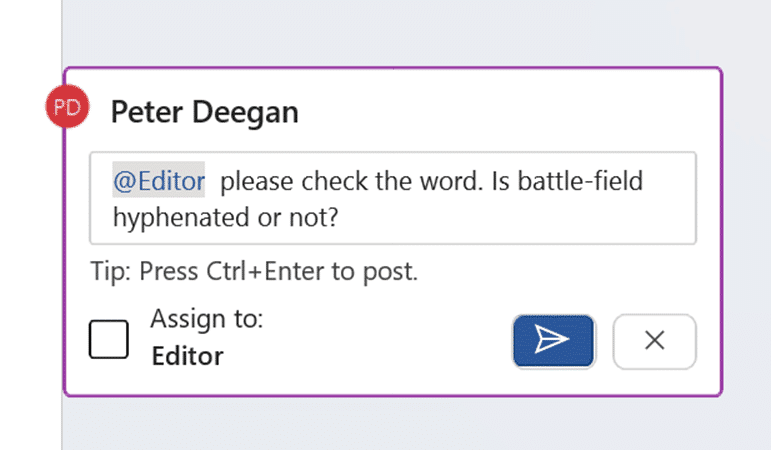 Check that box and the comment becomes a task as well, listed above the comment.
The person assigned the task gets an automatic email to notify:
Assign a task to yourself by @mentioning your own name then assigning the task.
Task is separate from the comment thread
Keep in mind that the task is separate from the comment thread, even though it doesn't seem that way.
A Task can be marked as 'Resolved' while the comment messages continues.
Resolve or Complete a Task
Each Task can be marked as 'resolved' separately from the thread itself by clicking on the circle "Assigned to".
The task then shows as completed with a comment added showing who tagged 'completed'.
Reopen or resume a Task
If the task still needs work, click the Undo button to Reopen the task.
Or click the Trash Can icon to delete the task entirely.
Reassign a Task
A task can be reassigned to someone else. Add another comment with a new @mention, that will create an optional 'Reassign to' prompt.
More to come?
Tasks in Word docs seems like just the start of another extension of Microsoft 365 integrations.
There are already plans for Assign Tasks in upcoming Excel. PowerPoint can't be far behind.
We were surprised that assigned tasks aren't added to the person's Microsoft To Do app. Or even just a link in the email to add the task to To Do. Surely that's on Microsoft's own development To Do list?
A summary list of assigned tasks should appear in the document. Perhaps a list of comments that can be filtered to show tasks, completed or not.
With better 'in document' task displays, there should be room for solo users to make their own 'To Do' list within a document. A great way to manage content in a long or complex doc.
Who gets it?
The Word document has to be saved on OneDrive or Sharepoint, according to Microsoft. We could only get Assign Tasks working on SharePoint, at the time of testing.
Assign Tasks is currently in Word on the web plus two beta releases
Word 365 for Windows  v2206 build 15321.10000 and later
Word 365 for Mac, v16.66 build 22090700 and later
As usual, it'll spread to preview and public releases in coming months.
The same feature is also in development for Excel 365 on the web plus for Windows and Mac.
One person Comments in Word
Dictate your comments into a Word document
Like👍button now in Word Comments