Let's take a moment to see where customers stand with Dark Mode options in Microsoft Office in Windows, Mac, iPhone, iPad, Android and web.
It's easy to get confused about Microsoft 365 and Office 2021 dark mode or theme options.  Microsoft has announced 'dark' developments so many times it's hard to keep up with what's going on and who gets which dark features.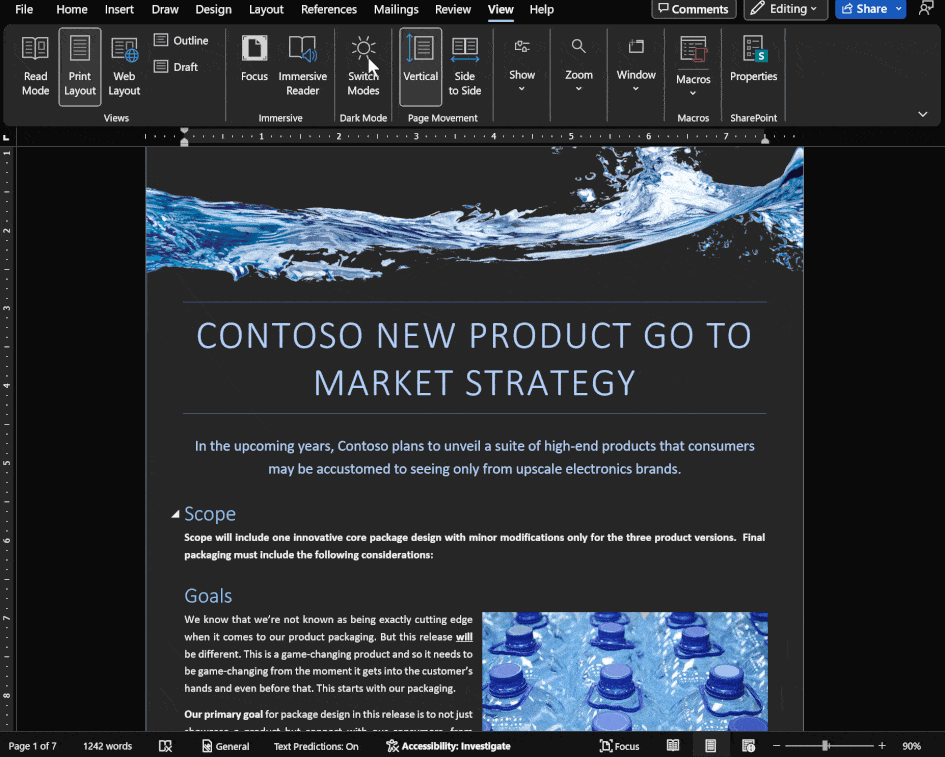 Dark modes have been gradually rolled out to Insiders then Preview and finally Public across the different platforms. Switching dark options has changed as have whether the darkness applies to the document background or not. See View | Switch Modes demonstrated above.
Microsoft gets very excited about Dark Mode and loves selectively 'quoting' mostly anonymous users who gush over the feature. Outside the Microsoft Reality Bubble™ darker screen options are used by some people and ignored by many others.
That said, it's worth trying out Dark Mode if you haven't before. It's easy to switch on or off.   There are now options to have a darker ribbon and interface with either a white document background or black 'page' with white text (the latter doesn't change the look of the printed or PDF document).
Dark Mode/Black Theme in Office for Windows
Microsoft likes to focus on dark mode in Word because that's where the feature has been fully developed.  There's still work to do in Excel and PowerPoint.  Outlook's Dark Mode is complete
In Office 365 or Office 2021 for Windows go to File | Account | Office Theme and choose 'Black'.
Or 'Use system setting' which will change the Office theme to match your choice of Windows look.
That setting applies to all Office for Windows apps; Word, Excel, PowerPoint and Outlook etc.
In Word only, when Black theme is on, a new button appears on View toolbar. Dark mode | Switch Modes toggles the document background (see top image).
For Excel and PowerPoint, the sheet/slide background is still white.
Outlook Dark Mode options
In Outlook, the background for reading and editing emails are separately controlled.
When making a new item or editing, you have the choice of white or black background, on the Message tab.
In the Reading Pane, look for the Switch Background button next to Reply.
Note that in Outlook, the background switching option is called 'Switch Background' instead of Word's 'Switch Mode' label for the same feature. 'Switch Background' is the clearer label and it would be nice if these labels were consistent across the Office apps.
Office for Mac dark mode
The same options are available in Word 365 & Word 2021 for Mac, but making the change isn't as easy.
In Office for Mac, you can't have dark mode in the Office apps separately from the overall Mac system appearance.  If Mac appearance is Light, then Office can't go into dark mode.  However a Dark appearance setting on the Mac can be switched to Light in the Office apps. 
First, go to the Mac System Preferences | General | Appearance and choose 'Dark' for your whole Mac screen.
Once the Mac is in Dark mode, go to Word | Preferences | General to:
Turn off Dark Mode in Word
White document background
Black document background.
There are also View | Switch Modes to change the document background quickly.
Outlook for Mac has separate background options for reading and editing items.
Excel and PowerPoint still have white sheet/slide backgrounds.
iPhone and iPad Office dark mode
There no proper dark support for Apple Office apps … yet.
At present, you have to switch the whole device to Dark theme, from Settings | Display and Brightness | Dark. All apps, including the Office apps, will switch to a dark look.
That applies to the Office 'all in one' app plus the separate Word, Excel, PowerPoint and Outlook apps.
Android Office dark mode
Office for Android app releases for Insiders have a dark theme option at Settings | Display Options. That applies to the Office 'all in one' app plus the separate Word, Excel, PowerPoint and Outlook apps.
Office for web
The Office in a browser apps do NOT support dark mode. That has to be high on Microsoft's To Do list, especially Word in a browser.
More to come
Microsoft has a lot more work to do before Dark Mode options are consistent across Office apps and platforms.
Excel and PowerPoint need dark background options for sheets and slides.
Ideally the iOS Office apps should have a dark theme separate from the overall device setting.
Office for Mac's dark mode should be independent to the Mac appearance setting.
Dark mode coming to Office for Android