Windows Movie Maker is a simple and free video editor from Microsoft. Officially it's no longer available but it's still available if you know the magic spell.
Earlier this month we explained how to get the much-loved Office Picture Manager even though it's been officially removed from Office.
Movie Maker was part of Windows Essentials, a package of free programs from Microsoft. Most of them are either defunct (Messenger) or superceded (Editor), only Movie Maker still has a place.
As a simple video editor, Windows Movie Maker is great. You can put together video clips, add captions, audio, titles and end credits. Various effects, animations and transitions are available.
Use WMM to make a short video for insertion into a PowerPoint presentation.
Windows Movie Maker 2012 works fine on Windows 10, Windows 8/8.1 and Windows 7.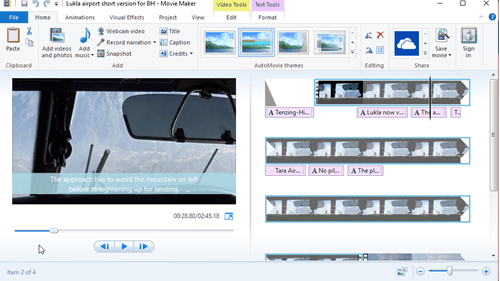 Officially, Microsoft has stopped supplying Windows Essentials 2012 (the last release). Strangely, you can still downloaded the small installer (wlsetup-web.exe 1.2MB) from Microsoft.com but that app can't grab the larger install files.
The Whole Package
Microsoft also released Windows Essentials 2012 as a single 'all inclusive' download – wlsetup-all.exe 134MB . This single file has all you need to install Windows Movie Maker and other apps.
It's safe practice to only download programs from original, known and trusted sources … but this is an exception. Since you can't get the download from Microsoft (unless it's hiding somewhere on Redmond's many servers) you're forced to look elsewhere.
We found the larger download available Live.com – a Microsoft owned domain
http://g.live.com/1rewlive5-all/en/wlsetup-all.exe (English).
We've listed all the language variants below.
Keep it
We strongly suggest keeping and storing safely the Windows Essentials 2012 full installer. That will save you hunting around and downloading again if you need to reinstall.
Rename wlsetup-all.exe to something more obvious like:
wlsetup-all Windows Essentials 2012 with Movie Maker.exe
that keeps the original file name plus enough extra words to make it easy to find.
Installation
Installing Windows Essentials 2012 is simple. Don't use the default 'Install all' option. Instead select 'Choose the programs you want to install'.
Then deselect everything except 'PhotoGallery and Movie Maker'. From there the installation should proceed normally.
Windows Essentials 2012 – full download, all languages downloads.
Here's the full list of download options for Windows Essential 2012.