Microsoft has decided that Calibri is getting a little tired, so it's asking customers to vote on which font will replace it.
Calibri has been the default font since Office 2007. It's familiar to most people whether they realise it or not because it appears in many Word documents.
The two fonts, Calibri (body text) and Calibri Light (Headings) appear on the top of many font lists because they are the default fonts for the document theme.
That means it's the font that appears automatically in a new 'Blank document. In other words, it's set as the default in the normal.dotm template.
The default font can be changed but, lets face it, most of us don't bother.
Time to evolve
Fourteen years on and Microsoft has decided it's time for a change in the default Word font. There's no specific reason for the change, Calibri works perfectly well. But Microsoft does like to change things, even if they are mostly cosmetic. The official line is that "we believe it's time to evolve".
Five design groups were commissioned to make the 'new Calibri'. A sans-serif font for both body text and a 'Display' variant for Headings and larger text.
We hope all five designers are being well paid by Microsoft. Not just for their hard work but also the ill-informed abuse they are likely to receive over social media – font 'experts' can get very hot under the proverbial collar.
The Final Five
There are five finalists for the place as the new Word default font. We have a separate page with full samples of all ten fonts plus Calibri for comparison.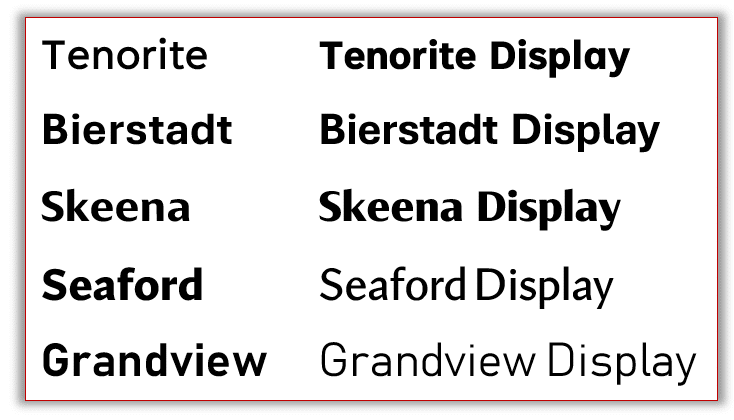 Tenorite
Tenorite Display
Bierstadt
Bierstadt Display
Skeena
Skeena Display
Seaford
Seaford Display
Grandview
Grandview Display
Vote your preferred font
You can try out the final five fonts and let Microsoft know which one you like by replying to their Twitter post.
It seems Microsoft is trying to generate a little social media buzz rather than compiling accurate votes using some technology like maybe Microsoft Forms.
Calibri lives!
No matter what's decided, Calibri and Calibri Light will remain in the font list. They have to be there to support the millions of documents using those fonts.
Check out the five new fonts in Microsoft 365
How to change your default font in Word
About Unicode, fonts and symbol codes
Typography 101 – font terms explained
Two ways to make Word remember your preferred font