There are a few ways to quickly tell which OneNote app you have on Windows. The OneNote that will continue development or the OneNote for Windows app which is gradually being allowed to die.
Previously we've explained about the upcoming changes for OneNote, including how Microsoft have decided to keep the OneNote desktop program ongoing, and retire the Windows 10 'modern' app.
Microsoft failed to decide which OneNote program to prefer for years and ran two programs side by side. With Microsoft's not-so-clear naming, it's no wonder customers are left confused.
OneNote for Windows – two possibilities …
The two available options available for Windows users are:
"OneNote" or OneNote desktop
OneNote – this was previously referred to as "OneNote 2016", and "OneNote 2013" in earlier years. Microsoft wants us to just call it "OneNote" which is silly because there's several OneNote apps (Windows, Mac, iOS, Android and web). It's asking for more confusion and misunderstanding.
We prefer to use the term 'OneNote desktop' or 'OneNote for Windows desktop'.
'OneNote desktop' is a free desktop app included in Office 2021/2019 and Microsoft 365 that runs on all supported versions of Microsoft Windows. This is the OneNote version you should use because it's getting ongoing support and new features.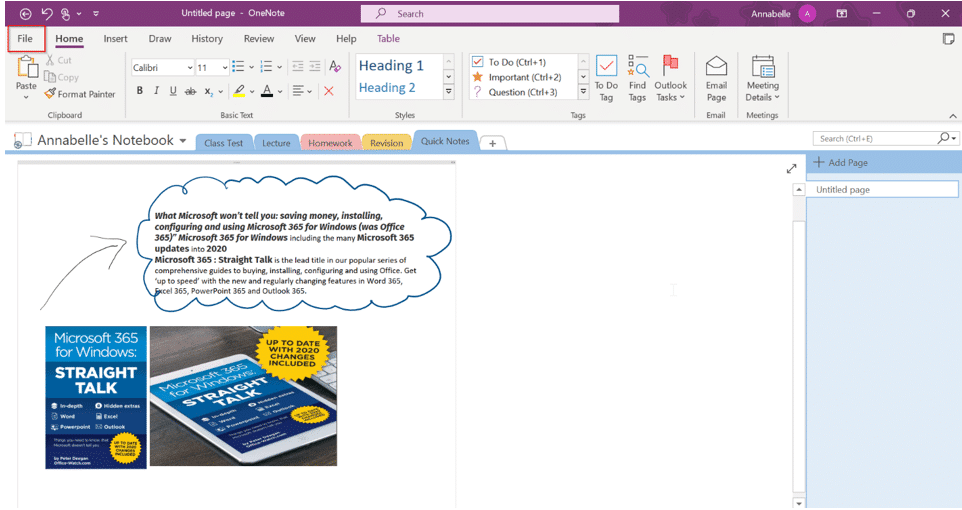 OneNote for Windows 10
OneNote for Windows 10 is the 'modern' or UWP app version that will stop support. This was be 'the' OneNote release for Windows until Microsoft did a '180' and announced in 2019 that the app's development would stop. Despite the name, the app also works on Windows 11.
Look to the OneNote desktop option for future use.
The OneNote app for Windows 10 will continue to work, for now, but support will stop in 2022 now 2025.
Main Differences between the two OneNotes
Although the program's icons look practically the same, the name of the application itself in the Start Menu will help you determine which app you have installed on your desktop.
At a glance – OneNote desktop or app?
Here's OneNote desktop with some identifying features marked. There are some other distinct features within the programs itself to easily tell the difference between the two OneNote apps.
File menu button
Firstly, OneNote desktop has a File menu button at the top left. This gives you options to open up additional OneNote files, access settings, create or share the files.
There's NO File menu on the OneNote for Windows 10 app.
Tabs
Look for the File menu and Section tabs just below the ribbon – that tells you it's OneNote desktop the program that's being continued
… except that in early 2023, OneNote Desktop for Windows also got a vertical tabs option so this method of telling the two apart might not apply.
Look on the View tab for a 'Tabs Layout' option for vertical/horizonal tabs – if that's visible, you have OneNote desktop. See Vertical tabs come to OneNote for Windows
Section tabs
OneNote desktop has Section tabs below the ribbon in a horizontal line.
In the OneNote for Windows 10 app the section tabs are at left and vertical, next to the page list for that section.
The soon obsolete app has no File Menu. The tabs are the same background as the single-line simplified ribbon – which you can't customise.
As we've noted before it only supports cloud stored notebooks, which is a major disadvantage for those concerned with privacy.
Customize the ribbon
OneNote desktop has a full Office ribbon that you can customise.
Moving forward, we recommend for new users to use OneNote desktop.
For those already using OneNote for Windows 10, it may be best to move across to OneNote desktop soon to take advantage of further updates and changes to come. Microsoft continues to say that 'no change is necessary' which is strictly true because it's not necessary but you will have to change over sometime in the next few years.
Understanding all the parts of OneNote
A start-up guide to OneNote
All the goodies inside OneNote Pages
Saving OneNote notebooks be saved locally and not in the cloud
Print to OneNote – two methods now available
Vertical tabs come to OneNote for Windows
Eight places to find missing OneNote pages or notebooks