If you're looking for 2019 calendar options, open up Microsoft Excel. Excel has a wide range of calendar templates to choose from.
Go to File | New and type 'calendar' into the search box. There's a proverbial embarrassment of riches.
Pick a year
All the Excel templates apply to any year. Enter the year you want and Excel will figure out the calendar accordingly. Most templates default to the current year using =Year(Today()). Change that by altering the formula to a specific year eg =2019 . Other templates have a 'spinner' to select the year.
Pick a theme
The quick way to change the look is Page Layout | Themes. Choose a Theme, Color or Font from the lists.
If at first you don't succeed …
Or that's the theory. The very first calendar we tried didn't work!
We don't look for bugs in Office, they find us!
'Calendar Creator (any year') sounds great … a one-page year calendar.
But opening it doesn't get very far. The calculated year (2018) or 2019 gets January right but not beyond that.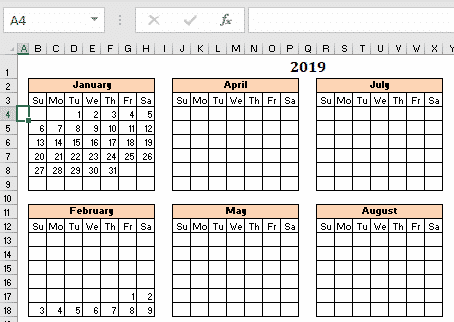 Try the Microsoft supplied calendars but double-check they are right. Do a few checks that:
the 1st of the month falls on the correct day of the week.
February has the correct number of days. 28 days in 2019 & 2021, 29 days in 2020.
2019 Annual/Yearly
There are annual or yearly templates available.
Calendar creator (any year). Give it a try, you might have more luck than we did.
Any year expense calendar. Month to a page. Despite the name, can be used for any purpose.
Calendar (any year, horizontal). Four months to a page.
Business calendar (any year, Sunday to Saturday). Six months to a page with space on right for notes.
Playful calendar for any year
Any year calendar with holidays
Family calendar (any year, Sunday to Saturday)
Seasonal family calendar (any year Monday to Sunday). Month to a page with space for an image.
Any of these calendars can be revamped to suit your need. Just because it's called 'Seasonal'. 'Family' or even 'Playful' doesn't mean you can't switch some images and colors to suit a corporate or non-family purpose.
Seasonal? Family? Calendar.
It's called a Seasonal Family Calendar but can be easily adapted to any purpose. If you want a month to a page calendar with a different image on each page, this is the choice for you.
There's a selector at top right to change the year.
Change images by clicking in that area then press Shift+F10 followed by a right-click to reach 'Change Picture'. The image and notes box are inside a text box.