Outlook has three features called 'Archive' with the newer versions (Archive and Online Archive) much better than older 'AutoArchive'.  We'll explain the difference, how to use Archive and why to avoid AutoArchive.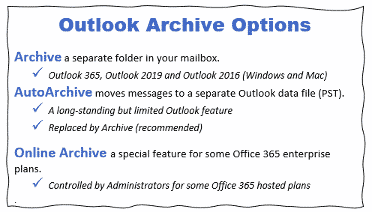 Each form of Archive sets aside older messages or emails you've finished with. It does that in two crucially different ways.
Archive is a separate folder in your mailbox.

For Outlook 365, Outlook 2019 and Outlook 2016
Windows and Mac

Online Archive is a special feature for some Office 365 enterprise plans.

Controlled by Administrators for some Office 365 hosted plans

AutoArchive moves messages to a separate Outlook data file (PST).

A long-standing Outlook feature but effectively replaced in Outlook 2016 by Archive.
Whether you use Archive depends on how you like to arrange your Inbox. Some people like to have a 'clean' Inbox with completed messages moved to other folder. Others let messages accumulate in the Inbox where they can be searched easily and don't use Archive at all.
Online Help – Warning
There's a lot of confusion online about Outlook archiving features. Plenty of well-meaning advice mixing up the older AutoArchive with the newer and simpler Archive feature.  Even Microsoft, at times, uses the term 'Archive' when they are talking about 'AutoArchive'.
Despite the similar names and intentions of the two features, Archive and AutoArchive are quite different. Advice for one doesn't apply to the other.
Archive
On Exchange Server, Outlook.com/Office 365 hosted mailboxes, Archive is a default folder much like Inbox and Sent Items.  For POP/IMAP accounts you can create an Archive folder and use it the same way.
Starting with Archive in Microsoft Outlook
Modern Archive keeps messages in the same mailbox and local Outlook PST/OST data file. The folder is usually synced automatically with the main/cloud server and available on any connected device.  It's counted as part of your mailbox storage quota. There's nothing special about the Outlook Archive folder. It's just another folder that you can use to organize emails.
While there are some special Archive features, the main advantage of Archive is that all the usual Outlook features can be used to move messages. Move, Quick Steps and Rules can be used to move messages from your Inbox (or other folder) to the Archive folder.
Starting with Archive in Microsoft Outlook
Manually moving Outlook messages to Archive
Rename the Outlook Archive folder
Archive in Outlook 365 and Outlook 2016/2019 for Windows
Online Archive
Exchange Online Archiving is an advanced service for some Office 365 Enterprise plans. Also newer Exchange Server setups; Exchange Server 2019, 2016, 2013 and 2010 (SP2 and later).
It creates a separate Archive mailbox that works alongside the main mailbox. The Archive Mailbox can be searched just like the main mailbox.
Admins can setup retention/archive policies for their business.  These policies can automatically move older messages to the archive storage.  Users can archive messages themselves or move messages back from the archive.
Office 365 customers have the interesting 'auto-expanding archive' option. When the users mailbox size limit is reached, additional space is automatically allocated to the archive.  This means the archive can never run out of space.
Administrators have most of the control with Online Archive and so the options available vary in each organization.  Check with your 'Network Gods' to see what's possible in your organization.
Whither AutoArchive?
Microsoft pushed Outlook's AutoArchive for many years, because it solved a problem for the company.  Back then, Outlook users complained about slow response from the program and inability to handle larger PST/OST data files.
Disappearing Emails in Outlook
The company introduced AutoArchive which moved older messages to a separate PST file.  That sounded great but the extra PST could not be searched. Messages were often overlooked or totally lost!  It was a short-sighted solution.
Office-Watch.com has never recommended AutoArchive because of the problems it caused over time. Microsoft and its boosters would sometimes complain about that view. They'd insist that AutoArchive was an absolute good with no downside.  These days, Microsoft has done a '180' turnabout and admits AutoArchive's problems:
" AutoArchive is an older Outlook feature that allows automatic moving of old mails to a .pst file. This means that the messages are removed from the server and are harder to find through search. If the hard drive that contains the AutoArchive.pst becomes unusable, these messages are lost."