How to remove or move email attachments using Outlook for Windows or Mac and the workarounds for Outlook.com in a browser.  Doing this reduces the size of your online mailbox and, from 1 Feb 2023, your OneDrive storage.
Removing email attachments is the fastest way to shrink a mailbox that's getting near it's maximum size because an attachment uses up a lot more space than ordinary 'no attachment' emails.
Deleting an email attachment will keep the message itself, just recover the space used by the attached file. It's a feature available in modern Outlook software for both Windows and Mac.
Outlook.com email attachments will be counted against the OneDrive quota is one reason to consider removing some email attachments.
See below for a contrary view about why email attachments should be retained.
Outlook for Windows
There are two options for saving attachments from Outlook for Windows to either your computer or upload to Microsoft cloud storage (OneDrive, SharePoint etc).
Click on the menu for any attachment to see the choices available which includes "Remove Attachment".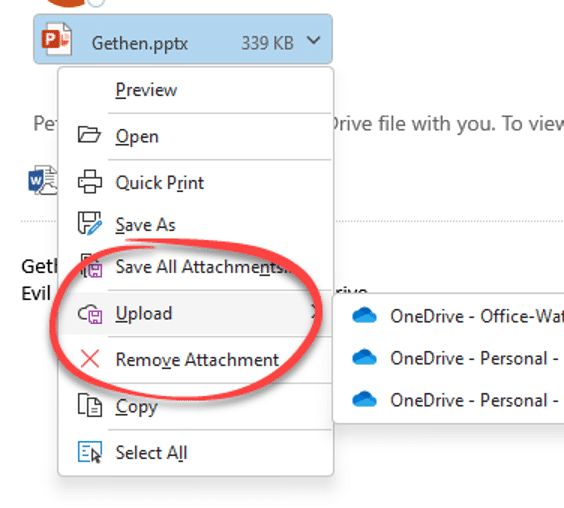 These options are in the Windows versions of Outlook 365, Outlook 2021 and Outlook 2019. Outlook 2016 has Save and Remove attachments without the Upload option.
Remove Attachment is available for all mailboxes, not just Outlook.com
Finding email attachments
Finding attachments is easy, there's a 'Has Attachments' button on the Search ribbon.  Click that with an empty search box to see all emails with attachments.
Outlook for Mac
Outlook for Mac has only Save As .. and Remove Attachment options, also on the menu next to any attachment.
Remove Attachment is available for all mailboxes, not just Outlook.com
Finding attachments
Outlook for Mac also has an 'Attachments' button on the Search pane but with a twist … you can specify the size of attachments to look for between a tiny 100kb and more than 10MB.
Outlook.com – no remove attachments
We were surprised and disappointed that there's NO remove attachment option in the browser interface for Outlook.com mailboxes. It's a notable omission when Microsoft is changing the way they calculate storage used by attachments.
There is a 'Download' option, same as 'Save As …' in Outlook software, plus a 'Save to OneDrive choice. But no 'Remove attachments'! 
The workarounds are:
Use Outlook for Windows/Mac to connect with the Outlook.com mailbox, then use the software to remove attachments. The changes will be synchronized with the online mailbox.
Delete whole messages with attachments.
Finding attachments
The browser version of Outlook.com also has an option to find attachments. Click the menu button at right of the search box.
Do you really need to remove attachments?
We know many people trim their mailbox by deleting attachments or old emails. That's not really needed these days.
"Once upon a time" that might have been necessary but these days Outlook software and online mailboxes (like Outlook.com and Gmail) can cope with much, much larger capacity.
I very much prefer to keep email attachments (sent and received) because can be a useful backup of past files or past versions of documents.  You might not need old attachments very often, but you'll be grateful when you need one.
If more mailbox space is needed, try removing attachments from 'Sent Items' first. Most likely you'll have other copies of files sent in past messages while Inbox / received attachments are possibly your only copy.
With online mailboxes up to 50GB, there's plenty of space available for emails and attachments.
All about Outlook.com, OneDrive storage and Microsoft 365
Outlook Categories: why and how
Outlook Profiles, important, useful but little known
Outlook's upside-down or flipping image rotation problem