The world's ugliest color is a 'drab dark green' and it can be used in any Word document, Excel sheet or PowerPoint slide if you're trying to make a unpleasant point. And we'll explain the recommended complement color and font.
It's not our opinion, but the market researched result of an effort to find the most unappealing color. A three month study looked for the most awful color for tobacco packaging under Australia's then unique plain packaging laws. Lime green, beige, dark grey and even mustard all were discarded in favor of a color that smokers and tobacco companies were sure to dislike, especially when combined with a stark warning, fixed font type & size plus some truly disgusting photos (see the end of this article).
Similar laws have followed the Aussie lead in UK, many European countries, Thailand and even Saudi Arabia.
Ugliest Color in Microsoft Office.
Go to the color selector in any Office product for font, background or whatever. Choose Custom and enter the RGB values.
Pantone 448 C
RGB: 74, 65, 42
Hex: #4A412A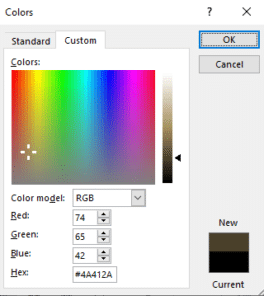 Office for Mac
Macs have their own impressive color selectors that Office for Mac uses.
Choose the Color Sliders, RGB Sliders then type the RGB codes.
Ugliest color in action
Here's a sample of an Australian cigarette packet with the ugly color.
Everything about the packaging is tightly controlled.
Text and complement for the ugliest color
Even the text font, size and color is set in Aussie law. We've used the same font and color in our two example slides above.
Font: Lucida Sans
Color: #D0D0CE or RGB: 208, 208, 206 is a good complementary color for background or text.
The same color is now a nail polish called Compost.
See Also:
Pantone 2020 color of the year in Word, Excel and PowerPoint
Pantone Color for 2019 in Office for Windows or Mac
Get the Pantone color for 2018 now in Microsoft Office
Pantone's 2017 'Color of the Year' in Office
Get the 2016 Pantone Colors of the Year in Office
Purple, Prince, Pantone and Microsoft Office