Word, Excel, Outlook and PowerPoint in Microsoft 365 have image and icon libraries plus stock images or 'premium creative content'. Despite the 'Stock Images' name there are four types of extra content; Images, Cutout People, Icons and Stickers.
We're told there are 'over 8,000' images and icons with 'more to come'.
Insert Pictures
The Insert | Pictures menu changes to three options
This Device – any image/graphic saved on your computer, network folder etc.
Stock Image – the new 'creative content' option.
Online Pictures – a Bing web search for images or clipart.
Stock Image dialog uses the same options as the existing Icons feature including search.
The whole feature is cloud based. An Internet connection is needed to use Stock Images and download your selections to your documents.
Search
Type into the Search box to find images by keywords. The underlying keywords aren't visible (a problem with Icons) so finding images needs a bit more guesswork than should be necessary.
As usual with image searches, there are peculiar results. The above search for 'smile' includes picture inside a tunnel! Since the keywords aren't visible that result remains a mystery.
Stock Image searches are limited to the selected type (Images, Cutout People, Icons or Stickers). There's no way to search across all those types.
Stock Images
A good collection of high-quality photos.
There are groupings shown, really pre-set searches, across a top bar.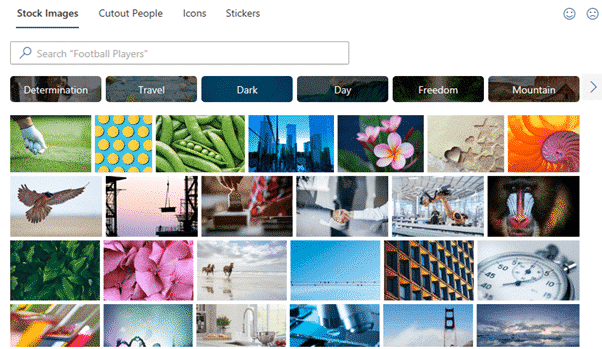 Cutout People
There's a new type of photos called Cutout People. Women and men in various poses against a transparent background.
There's a mix of people, by sex, age and nationality. Choose by searching or use the presets to choose a person/character by name.
Transparent background means you can add the cutout person to any image or background. We chose 'Angela' and put her into another stock image.
Icons / SVG graphics
SVG graphics or as Microsoft calls them, Icons. This is what Insert | Icons now shows.
The Icons have been revamped a little from the ones already available in Office 365. For example the Biohazard symbol in Stock Images (bottom row, below) is much better than the poor symbol previously available.
Microsoft is cheating their " 8,000 images " boast a bit. All the Icons come in 'Black' and 'White' or 'Filled' and 'Outline' variants. That's a convenience but not necessary. Most icons are duplicated with slightly different settings, thus doubling the marketing count. Icons can be quickly changed to the other by changing the fill and outline settings.
In case you're wondering … we checked, the Stock Icons are truly SVG graphics saved into the document.
As SVG's, the new Stock Icons have all the flexibility to remake them into other colors and forms.
Edit options for SVG Icons in Office 365/2019
Make simple changes to SVG graphics
SVG graphics coming to Office … at long last!
Sketchy or wriggly lines in Icons and SVG graphics
Use Icon/SVG as Bullet in Word list
Stickers
Microsoft continues to try getting younger people excited about Office (see the Windows Emoji pane) and now we have 'stickers' in Office.
Stickers will probably be a 'love em or hate em' thing. We hate these sickly, sweet and juvenile graphics … each to their own taste.
Alt Text
Any inserted image comes with an Alt Text description but not the search keywords.
When?
Stock images or premium creative content are available in Microsoft 365 Insiders v2004 build 12730.20024 and later. They'll roll out to Slow Insiders and eventually public releases of Microsoft 365 for Windows. No word on availability for Mac, Online or Mobile apps however, since it's a cloud service, the rollout to those platforms should be fairly quick.
Getting an image into Office – not as simple as you'd expect
Making pictures smaller – some more options.
Image search improvements for Office 2016 /2013
Search for Microsoft Office Icons
Is it safe to use Icons / SVG in Outlook emails?